Once upon a time, I was a Naval Officer. Long before I became an animal communicator. My Dad had been in the Navy, and I was intrigued. I could put my bachelor's degree to work and see the world at the same time. What clinched it was the Blizzard of '77, where my hometown Buffalo got over 200 inches of snow. I begged my detailer for "any warm island" and was sent to Puerto Rico's Naval Communication Station in Ponce.
Life in the Navy
Puerto Rico was AWESOME! Though I regret that I was too shy to speak Spanish (six dang years of schooling). Plus, the local folks kindly switched to English when talking with me. So my Español is still "no muy bien (meh)."
Life in the Navy agreed with me—I had interesting jobs, met people from all over, and explored new cultures. I did my small part supporting the Fleet, particularly during the Persian Gulf War. I started a family, earned two Master's degrees, lived in Japan, and visited 5 countries while I served! After retiring, I worked at a great association in northern Virginia.
And that's when my dogs started communicating with me
Maybe you've read my bio. Here are two favorite stories.
Mitsubishi tells me off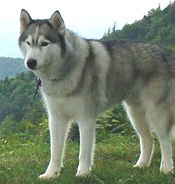 Mitsubishi had seen me use Reiki healing on my older dog, Eddy, before she died. It did not keep her on the planet, but it eased her transition. Later, I started doing energy healing on Mitsubishi while we sat together on the couch.
Mitsubishi looked into my eyes, and I thought, "If Mitsubishi could talk, he would have just said, 'Don't try that shit on me; it killed Eddy!'" Then he jumped off the couch. But I still didn't get it!
Tibor finally gets through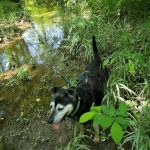 Tibor was probably a year-and-a-half. He had a broken tooth, scars, and some aggression issues based on fear, yet he was a really nice guy.
Disturbing visions
Every time I sat down next to Tibor, I saw an image of a man standing up wearing this huge protective suit and a German Shepherd running at him and biting his arm. It looked like those pictures of places where they're teaching dogs how to be an attack or guard dog— Schutzhund training.
I thought, "I don't know what's going on here, but I've got to find out." A friend told me about animal communicators. I then searched for someone to teach me more about animal communication so I could do it on purpose.
Turning into an Animal Communicator
Is turning into an animal communicator weirder than Cinderella's pumpkin turning into a carriage?

Possibly. But it happened.
A session can get you into the "animal communication vortex!"
Here's the best news: you don't have to wait half a lifetime like I did. You may not turn into a pet psychic—you just have to book a session. Find out about your dog's anxiety, or your cat's not using the litterbox. Together we will explore whatever animal behavior problems you're seeing.
Here's a secret: Many clients who have had an animal communication session feel more telepathically tuned into their animals. I think it's a side benefit of being in the "animal communication vortex" I create when I do a session.
Sally and Harry (& Emma)
Emma and her dog Sally had a session with me (not their real names). A few months after our session, one of Sally's favorite neighborhood dogs, Harry, no longer lived in the neighborhood; his family had moved.
Sally wanted to continue their joyful ritual of walking up to the front door to say hello to Harry. Emma would tug and pull her away, muttering under her breath about dogs that don't listen. Finally, Emma explained to Sally, "I'm sorry, Sally, Harry moved away with his family. A new family lives here now, and we can't visit."
Sally stopped pulling on the leash to visit Harry's house after discussion. Incredible!
Or learn how to communicate with your own animals
I can teach you how to communicate with your animals in my online UConnect class. Seriously, you can learn how to do it —you need a good teacher, clear knowledge, and lots of practice. You'll find all of that in my class. Here's what one student says:
Susan Rose testimonial for UConnect with Sacred Grove