Yes, it's my dogs' fault that I communicate with animals. And I'm so thankful for their intervention! They came though so authentically that I knew I wasn't taking a trip to "crazy town." Because I couldn't make this stuff up.
(Note: This isn't my dog, sorry to say! But I love the mischievous look in her eye!) 
My life path before animal communication
Before my dogs started communicating with me, lots of life happened. I went to college, joined the Navy and lived outside the continental U.S. for some of that time (THANK YOU NAVY!!).
Then I retired from the Navy and found work in an association. I finally saw my kids start their own adult journey. And became a massage therapist while working at the association.
Learning energy healing opened a door to my intuition
While in massage therapy school, a fellow student Laura, taught me Reiki. I loved Laura's energy. So I took all three levels of Reiki and became a Reiki master. I even taught my son, Pat Reiki One.
Unexpectedly, this is when my dogs started communicating with me.
It really wasn't the dogs' "fault"
As I think about it, I realize my dogs were ALWAYS communicating with me. I just wasn't listening. I wasn't open to those intuitive interactions.
Read my dogs Eddy, Timmie, Mitsubishi and Tibor's stories here.
I'm not special
If a woman from Depew, New York (uh, that's me) can unexpectedly receive information from her animals, you can too.
It's actually not your dogs' fault (or your animals' fault) you're not hearing them. Becoming a Reiki Master was the key for me. But it's not a requirement for YOU.
Decide to expand your intuition
Decide to receive information from your animals in a different way. Then take some action.
Maybe take a class like UConnect. Or learn meditation or another practice that turns up the volume on your intuitive abilities.
When you talk to your animals, (don't pretend you don't!) expect a response. Tell them you're trying to hear them and ask them to help however they can.
Set an intention that you're going to perceive something from them. Maybe it's a behavior, a thought pops into your head, or a visual comes into your mind that relates to what you just said. Maybe you feel an emotion you didn't feel before.
---
My husband said it was cat's fault
While I was at an animal communication training class, I got an unexpected text from my husband, Charlie.
"I went to the pet store to get cat food and came home with a cat."
Shadow pleads with Charlie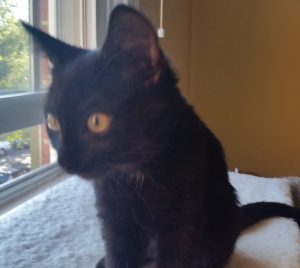 When Charlie was in the pet store, he went to visit the cats up for adoption. As he scratched a little black cat's cheek, he noticed her name, Shadow.
Shadow grabbed his finger and pulled it through the opening. He heard her say, "I can't stay in this place any longer. Please take me home." He was smitten.
Shadow became our third cat.
Was Charlie was messing with my mind?
I mean, how perfect to explain an unexpected addition to our already small townhouse (2 dogs and 2 cats). Just tell your animal communicator wife that a cat just begged to come home with you. How could I object?
Shadow visits me
But while I was still at the training, Shadow visited me in my dreams. From that point on, I knew she was supposed to be with us.
Read, Do cats have psychic abilities?
I believe that people who work with me strengthen their own animal communication abilities.
Want to communicate with your animals?
It's time to work with Maribeth!
---
I'd love to hear how your animals communicate with you!