If you're grieving for your animal, create a pet memorial to focus the love you feel into something tangible. A pet memorial is "something that keeps remembrance alive." And taking action to remember your animal honors your relationship. Doing something positive gives you an outlet for your grief and love.
Grieving for your animal is not trivial! Don't listen to people who say, "Well, it was only a [fill in the blank]!" My love for my animals runs deep and the love is mutual. Through their love and support, I remember I'm loveable. That's profound. If that's true for you, then the loss of that being in your life is significant. Creating a pet memorial helps heal that loss.
Grieving for your pet? How one family showed their love!
Nibbles was a friendly guinea pig living with his human family, rabbits (Bobby and Munch) and chickens Belle, Sally & Ella. He belonged to Matthew and was also really loved by the whole family.
Nibbles enjoyed hanging out in the kitchen, where the family gathered, walking up to family members and sitting on their feet.  Sometimes this was a bit scary, as members would be holding a big knife cutting food, and then he would be put in his cage.  Now it feels weird to cook for the family without him on their feet; it is a treasured memory.
Nibbles started getting weaker for no reason, so Regina and her son Matthew asked me to find out how he was doing. I had a lovely session with Nibbles and Regina in their back yard in New York to me in Alexandria, Virginia.  Nibbles explained why eating and drinking was difficult, and that the help and love of his family comforted him.   Even though he was getting weaker, and he was not squeaking as often, he still would engage with each member and let them know he loved them.
Nibbles Transitions
Regina, the mom,  had an intuitive hit early Sunday morning that Nibbles had passed. I believe I got a sense of it as well that Sunday morning since I had done late-night healing for him.
Timing
Even though their guinea pig Nibbles passed knowing he was loved and cared for, there's never a good time to lose someone you love. He had a little body and such a huge presence.  Since he roamed free in the house, he would greet members as they entered the home and room.  This greeting and all the joy he gave is missed by his family.
"We love you, Nibbles!"
"It is not the strength of the body that counts, but the strength of the spirit"— J.R.R. Tolkien
Funeral for Nibbles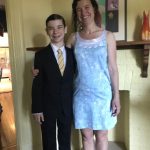 The family decided to have a funeral for Nibbles. All members of the family wrote a letter to Nibbles about how much they loved him. Before the funeral started Regina photocopied the letters and put them in a folder which they call the "Nibble Notes". At the funeral, they buried Nibbles in his bed and put the letters to Nibbles covering him along with his second bed.
I remember doing this for my son Pat's gerbil, ChiChi. It was incredibly satisfying to help him in as he was grieving for his pet. I believe we teach our children to honor and respect animals through rituals like these.
Nibbles' Grave
The family buried Nibbles in a great spot in the backyard. Even the chickens can visit Nibbles back there!
Other memorials to remember your animal
People I know have created a "shrine" to their pet – a table or shelf with their pet's pictures, their ashes, a favorite toy, and maybe their collar.
Nibble's Shrine
The Friday before Nibbles passed, Matthew drew a picture of Nibbles at school.
After Nibbles passed, Regina framed it and put it on a table along with flowers and rocks.
Regina put the shrine where Nibble's cage was.
My "Shrines"
I have my dogs'  and cats' collars by my bed. Also, their ashes (in beautiful boxes) and paw prints are on the fireplace mantle.
Pets have emotions about friends passing, too
Bobby the bunny lived right next to Nibbles and was with him when he passed.
Before passing Nibbles laid on a rug a lot. The bunnies are also grieving. Now Bobby visits the rug often. The rug is where he feels Nibbles the most.
Munch, the second bunny, went into Nibbles' cage to say his goodbyes.
"Keep the Memory Alive"
Whatever you do, do it thoughtfully and with love. It will help you find peace when you're grieving for your animal.  They appreciate being remembered with love.
Get my bestseller, "Peace in Passing"
---
Grieving for your animal? I'd love to hear what you've done to remember them.