Sue, a foster mom, scheduled an animal communication session with me to help Sandy, a dog in her family's care, get ready for her new home. Since this story brings tears of joy, I want to share it with you!
Sandy the Aussie
Sandy's family surrendered her because of some physical issues. To help Sandy find a new home, the wife contacted the Aussie Rescue & Placement Helpline. So when I "met" Sandy, she lived with her foster family while awaiting adoption.
Confused and sad
Once the medication was given for Sandy's physical symptoms, they disappeared. But Sandy acted confused and sad. At times, she panted and drooled. Sadly, Sandy didn't initiate play with either Crash or their other dog, Cody. Seeming withdrawn, Sandy had a hard time showing affection.
Our animal communication session
Not the beloved puppy
When I connected with Sandy, she shared her deep desire to be the "beloved puppy" (no matter what her age). She wanted to be her family's pride and joy. But she wasn't.
She was devastated
Her family gave her up and it devastated her. To help her heal, I let her express that sadness fully and told her how sorry I was. Then her foster Mom, Sue explained how much they enjoyed her (I communicated that for Sue). And that she'd be a wonderful companion. Sue and I asked her to let go of the past. We suggested she enjoy life with Sue's family. Finally, Sandy learned that she would have a forever family who loved her deeply.
After the animal communication session – emails from Sue
"Thank you again for your help today with Sandy. The difference AMAZES me. She relaxed, bounces around, and is generally 90% more social. I told her about her new parents and she just started hopping around and barking. I asked her if she wanted to be their Princess and she gave her happy bark.
"Even my husband, who is usually a bit of a skeptic, noticed a difference in her demeanor when he got home tonight. So much of the sadness in her eyes is gone. What a difference.
"Sandy meets her new family on Saturday. I assured her that if she does not like anything about the home that she will come back here with us."
More good news from a second email
"Sandy is a different dog! At the moment, she's playing with Cody! She initiated play!!!! WOW. Of course, Cody was shocked but still a triumph for sure.
"And now she has jumped up on the couch next to me.  Oh my, how wonderful! I have been calling her Princess Sandy since yesterday. She had her spa day today and likes being cleaned up.  Her new family is going to love her and she will love them.
PS Sandy just jumped in my lap and gave me a kiss! Happy girl!"
And finally from our foster mom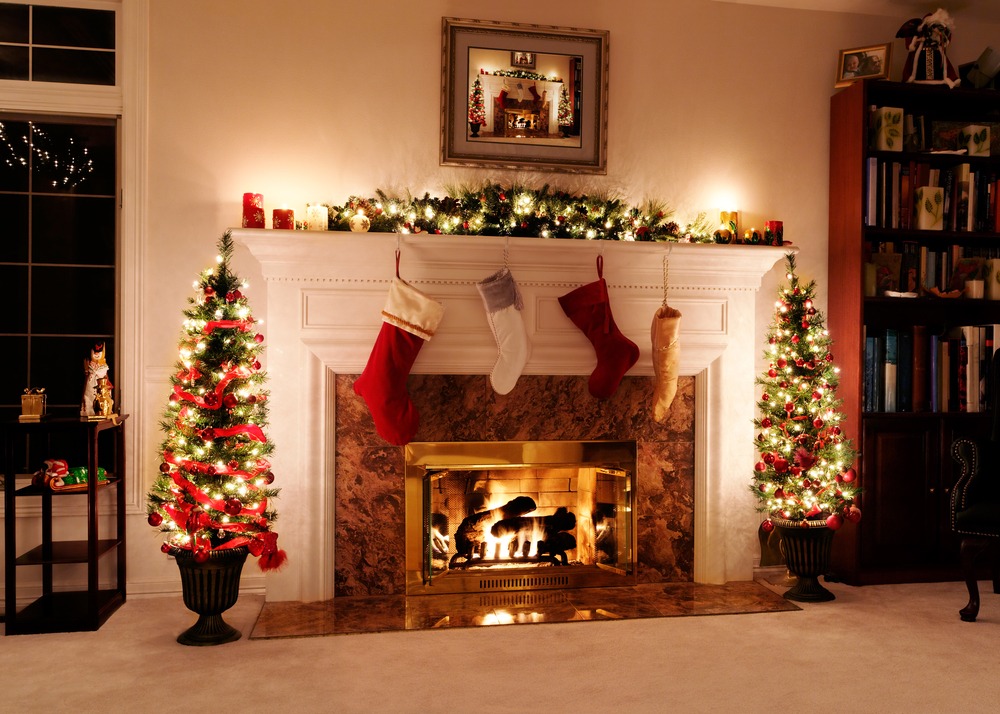 "The family adopted Sandy! When we arrived at the home, she ran up the steps to the door and immediately made herself at home."
"They even hung a stocking on the fireplace for her.
"When I asked her if she liked her new home, she gave me a happy bark. Besides her new parents, Sandy has a sweet kitty to keep her company — she loves cats."
"Welcome Home Sandy and Merry Christmas!"
Final thoughts
Families rehome or surrender their animals for a number of reasons. Sandy is lucky to have been fostered by a wonderful, understanding family! And the ARPH found her a new family that finds her delightful!
Since I'm retired Navy, I salute the Rescue Organizations, Shelters and Foster Families who take this work on! A grateful animal communicator thanks you!
Read Before you take your animal to the shelter.
Read Pet Adoption 101: What to Do Before, During and After a Shelter Visit
Does your foster or shelter animal need help?