Coming home on my book tour (This book tour was from 2016!)
Best Aunt Ever Norma Litwin and Best Friend Debbie Kanarek sponsored my book tour in my hometown, Buffalo, New York.
The book tour presentation
My book tour includes a 2-hour presentation and book signing.
Here is a picture Jack took of some of us at the Dog Ear's bookstore presentation.
During the presentation, I share 4 golden nuggets for learning to communicate intuitively with your own animals.
Plus, I share stories and insights from my book, Peace in Passing: Comfort for Loving Humans during Animal Transitions.
You know, we always have the most interesting discussions.
Buffalo is looking spiffy!
The Blizzard of 77 in Buffalo pushed me into joining the Navy, requesting "any warm island" – first duty station: Puerto Rico!
Coming back this year, I found out that Buffalo had started renovating the city in 2010 and it shows!
Debbie and Phantom are my hosts
I stayed with Debbie and her wonderful kitty, Phantom (as in "Phantom of the Opera").
Phantom is a Tuxedo cat. She is mostly white but has what looks like a black mask over the left side of her face.
After a few days, Phantom became my daily alarm clock. She came to the bedroom door every morning to give me a "meowy" wake-up call.
First stop – Dog Ears Bookstore
Debbie got me booked at the Dog Ears Bookstore (great name, right?) in South Buffalo.
The bookstore caters to kids as well as adults – it sponsors many reading-related events for kids.
Here is a book cover from my favorite Dr. Seuss book that kids had painted on the bookstore walls.
Next stop – Aunt Norma's house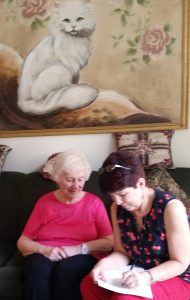 Aunt Norma hosted me at her house in Orchard Park the following day.
She is closing in on 90 years, so give her a standing ovation! I aspire to be spry, loving and alert as she is!
This was another lovely presentation to friends and family.
Ever Onward!
So far this year, I've been to Denver, Colorado; Pasadena, California; Portland and Gladstone, Oregon; and of course, Buffalo!
I'll be in Austin, Texas the first weekend in December.
We're working on dates for Alexandria, Virginia and Manchester, Vermont. Let me know if you'd like to host me in your town!