A Tough Dilemma
Wondering if your animal is ready to pass on is something I have been asked more than once as an animal communicator. It's a tough dilemma. It is more than just your animal being ready to go. It's also about you and your family being ready to let your animal go.
Start with a clear intention
I think we, the guardians of our animals, should start with an intention to make decisions for the animal's highest good within the limits of what we are capable of logistically (money and time) and what our hearts can bear.
You know your animal
Ask yourself, what makes his or her life worth living? If there is little or no pleasure in or ability to do what used to be fun, it might be time.
But don't be hasty
There are a lot of options a thoughtful, holistic veterinarian can recommend to manage the issue. Get good information. Then let your heart and clear intention guide you.
My dogs have always loved walks, cuddling and good treats. So here are examples from their lives:
Couldn't move easily – This could be caused by pain. My vet was able to provide some medications to manage the pain and my dog Missy perked back up. We gained a few more wonderful years.
Not eating – Again, this could be caused by pain or something else that can be managed or even fixed. Check with your vet and see what the options are.
When it's not clear
Sometimes it's useful to get an animal communicator involved when it's still not clear.
A client had brought home a puppy in addition to already having an older dog in the house. The older dog had cancer and was having some symptoms and behavioral issues. The client wondered if the older dog was ready to transition. The information I received was no, the older dog thought his family was going to get rid of him.
He reasoned that there had always only been one dog in the house and now there were two. Somebody had to go – and it looked like he was the most likely candidate! He definitely wasn't ready to transition. I assured him that they were not going to get rid of him. I told him that he had a role in teaching the puppy the rules of the house. There was a marked improvement in his behavior, allowing his family to focus on his physical symptoms. When he was ready to go, his symptoms very clearly indicated to his family that it was time.
Animals Survive
Something to consider when you are faced with the final decision: I believe that animals survive the death of their bodies just as I believe that people survive the death of their bodies.
I had the best personal experience ever when I saw my dog, Timmie, in my dining room looking happy and healthy. Yes, this was after he passed on. So take comfort in the possibility that you'll see your animals again.
A Healing Story: Mitsubishi's Last Day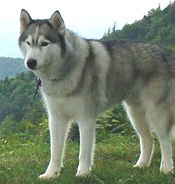 In 1999, we brought home a feisty Siberian Husky less than a year after my husband died. The kids named him Mitsubishi. He was playful, gentle and LOVED getting away when being walked. A young girl in our neighborhood once told me that she saw a wolf running by her house. I had to laugh as I told her, no, it was my husky.. .there are no wolves in Alexandria, Virginia.
When Mitsu (his nickname) was 13, he started having multiple seizures. We took him to the emergency hospital, hopeful that it was something fixable. It was not fixable. We decided that additional medical procedures would not be fair to Mitsu. He could no longer walk or run (his passion!) and was incontinent. We made the decision to let him go.
I found a vet who was willing to come to our house to put Mitsu down. We brought him home and laid him on a soft blanket in the living room.
The word went out that it was Mitsu's last day. Daughter Andrea came up from college and son Pat took the day off. Our other dog Stella, who thought Mitsu was the best big brother ever, sat and waited. My friend Snow brought her dog, Libby, one of Mitsu's longtime friends, to say farewell. Neighborhood kids and their parents stopped by to feed Mitsu treats, pet Stella and tell stories about Mitsu. Our friends from The Mount Vernon House came over, crying and laughing with us. Mitsu loved it.
It was finally time. We held Mitsu as he transitioned. They took his body and left us with that emptiness that all guardians know. Later on, Mitsu let me know that it was indeed his time to go. Another dog needed a home. We found Tibor a while after Mitsu passed.
Why is this a healing story?
Many people were able to say goodbye to this wonderful dog, Mitsu was able to feel their love and he transitioned in his home. Not a bad way to go for any of us!Tell me about Perfect Endings & Transitions (PET)