Where People and Pets Heal and Connect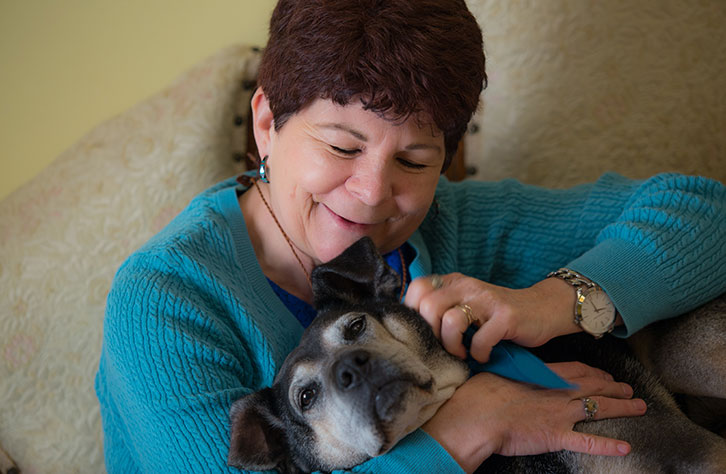 Maribeth works with people who love their animals as much as their humans. She uses her intuitive abilities to address animals' issues that interfere with people being able to enjoy their animals.
She is especially gifted in transitions: into your family, moving from your family to a new family or onto the next life.
People often see improvements in animals' behavior and in their relationship with their animals after working with Maribeth.
Why is animal communication Maribeth's passion?
Maribeth has a strong desire to help people spend more time enjoying their animals!
She loves working with people who see their animals as part of the family – because that's how she sees the relationship.
Maribeth wants to bring more love, compassion and comfort into all human-animal relationships.
Her vision is that people who work with her begin to understand the world from their animals' perspective. Their hearts will expand in unexpected ways and positively impact the animals and the humans in their lives.
She dreams that this heart-centered energy will develop into a respectful relationship between humans and all the other animals in our world.
Ways to work with Maribeth
Advanced Psychic Development Intensive
Angelic Living Light Alignment Practitioner
Animal Communication Training
Communication With All Life University (CWALU) 
Bachelors of Science in Psychology
Basic Akashic Records Reader
Completed Basic and Advanced Akashic Records Training March 2016.
Certified Quantum-Touch Practitioner
Dream Interpretation Practitioner
Dream interpretation for over 20 years; took classes with Montague Ullman, MD and Nan Zimmerman; Dr. Gayle Delaney; Jeremy Taylor; studied Strephon Kaplan-Williams Dreamworking manual.
H.E.A.L Level 1
Masters of General Administration
Masters of Science in Organizational Development
Medical Intuition with Tina Zion
Recommended by Internationally acclaimed Medical Intuitive, Tina Zion; completed 32 hours of Advanced & Masters Level Medical Intuition
Reiki Master
Retired Naval Officer
Sacred Contracts & Ancient Archetypes Training
Completed Sacred Contracts and Ancient Archetypes Training March 2014.
Spiritual Dog Training
Studied Spiritual Dog Training program (not a dog trainer) February 2016.