View Maribeth's interview with host, Laura Hartman on the TV show, Potluck
Sessions
Animal communication sessions are conducted remotely via phone or Skype. So location is not an issue!
We can work together via the Perfect Union Program™ (PUP) or the Perfect Endings & Transitions™ (PET) Program.
In each program, I offer single sessions and packages.
What results are likely from a session?
Results depend on your reason for working with me and how you view your relationship with your animal. These are potential results.
Improved behaviors
Improved relationships
More fun and joy in each other's company
Deeper relationships
Understanding the issue from the animal's perspective
More patience with the animal
More peace with the decisions you make
Less anxiety, fear and worry
Increased ability to communicate intuitively with your animal
Understanding the animal's role and purpose in your life
---
---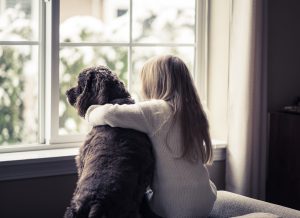 Families are a union of personalities, both human and non-human.  PUP animal communication helps improve animal behaviors and emotions that frustrate or worry you.
We also help you understand your animal's viewpoint. As a result, you will probably have more patience. That's good for the relationship!
Through animal communication, we aim to "form a more perfect union."
---
 Programs & Packages
Sometimes one session is not enough. For instance, chronic issues may take more than one session to improve. Or you may want to check in over time to see how they are doing.
We have two PUP™ options: SOS™ and DIY- Basic™.
---
SOS™
I was going to call this the "STOP THAT SH**" program. But I decided I would stick with SOS. The program consists of four sessions.
Why people choose SOS:
Each animal needs focused attention, communication and healing.
Remind them what behavior you like. Animals "fall off the wagon" too.
Clear the animal's emotions and beliefs that keep them stuck.
Clear YOUR emotions and beliefs about the situation. Once that's done, we can change your animal's behavior.
SOS™ can address PET™ family transitions, too.
---
DIY (Do It Yourself) Basic™
Most people will be satisfied with one session or SOS. But I wanted to offer this to those who want to go deeper.
This program helps you practice animal communication with your animal. We also practice energy healing. It is six sessions. If you don't like homework, skip this program!
By the end of this DIY Basic, you will have:
A basic understanding of animal communication
Techniques for communicating with your animal
Techniques for some simple energy healing
Resources for opening your own intuition
Resources for energy healing
---
---
PET focuses on end-of-life transitions for animals.
It is also for end-of life-transitions for people. That's because some want to say goodbye to their animals.
And it addresses transitions into/out of the family.
The end-of-life package includes two sessions. Also, there will be energy healing during the transition.
For transitions into/out of the family, the SOS™ package is a good choice.
---
---
One emotional outcome we work towards in our sessions is increasing joy, love and appreciation in the human – animal relationship.
With this in mind, we may need to clear negative emotions for you as well as your animal.
This is especially true with transitions, but it is also true for any animal behaviors you find frustrating or worrisome.
Hours
(
By appointment only; all sessions are remote
):
Tuesday, Wednesday, Thursday: 11:00 AM – 8:00 PM ET
Saturday: 11:00 AM – 4:00 PM ET
Cancellation policy. Minimum 48 hours' notice required for single-session cancellation and rescheduling; please note that your actions affect others. Your session is a time reserved for you at others' expense; if you cancel within 48 hours of your appointment, be advised that your prepayment is considered a donation to The Sacred Grove Animal Welfare Fund, which supports a number of local, national and international animal welfare and rescue charities.